Liquid nitrogen is used as a cost effective coolant for industrial applications. In many cases, it is necessary to supply the liquid to the application under elevated pressure conditions, and to de-pressurise it subsequently without any significant formation of gas, or to allow adequate heat-absorption before the liquid reaches its boiling point.
Typical Subcooler Applications:
spray cooling of large spaces, machines or plants via nozzle manifolds that require an even distribution of the liquid nitrogen within the nozzle manifold, such as

spray-cooling in tunnel freezers, mixers, kneading machines mainly in the food industry
high capacity cooling processes, precise temperature control in freeze-drying for chemical & pharmaceutical production processes
deburring of rubber and plastic parts, e.g. in the automotive industry

high efficiency cooling processes, especially at high differential temperature, such as mold or die-plate cooling in aluminium or other metal extrusion processes
generation of high-pressure cryogenic liquid jets
fast filling of pressure-less vessels, dewars and transport containers without the
formation of fog for transport & general production purposes
liquid conditioning for high pressure pumps
liquid transfer to systems susceptible to the formation of gas bubbles, such as oscillating or rotary pumps, MBE cryogenic pumps
HT super conductors cooling loops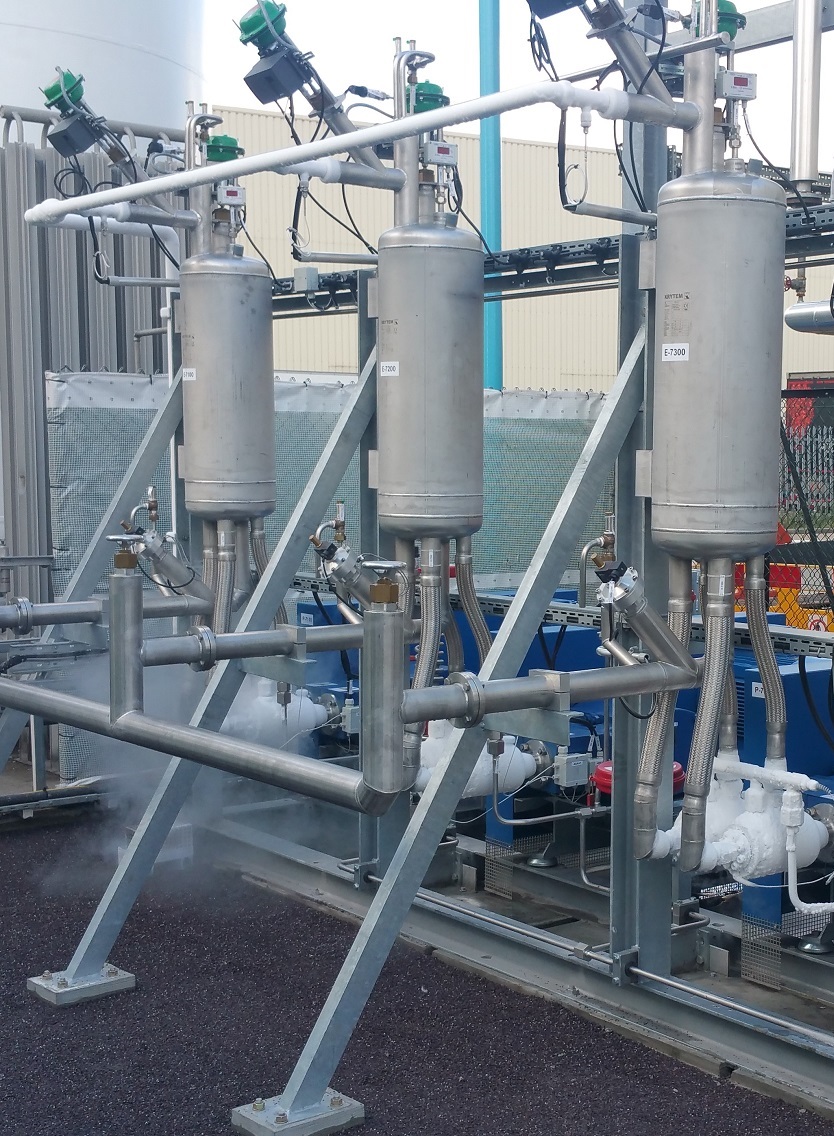 Inside a SUBLIN subcooler, the operating medium is conducted through a heat exchanger that is surrounded by boiling liquid nitrogen. The vacuum-insulated nitrogen bath is pressure-less at a temperature of -196°C. The liquid inside the heat exchanger is under tank pressure. Depending on the throughput of liquid, it cools down to near bath temperature while the bath partially evaporates due to the absorption of heat. An electronic level control with an actuated fill valve maintains the pre-set bath level automatically. If the medium is also nitrogen, the bath is fed by the pressurised part of the system via an internal bypass. Subcoolers for media other than nitrogen need to be supplied with nitrogen (acting as coolant) from the outside.
For special applications, SUBLIN VAC super-coolers are available that operate at a coolant bath temperature of about -209°C.
Design features
vacuum-insulated vessel of horizontal or vertical design
top-mounted gas vent and valves
liquid inlet and outlet connections located at the bottom (vertical version) or on the side (horizontal version)
non-insulated connections with welded ends or metal sealed threaded connections (flanged connections are feasible, if requested), alternatively vacuum-insulated Johnston-type or welded couplings
Technical Data
Coolant:
liquid nitrogen
Operating medium:
liquid nitrogen; optional: LOX; LAr and LNG (only with pressurised coolant bath)
Operating temperature:
coolant bath: -196°C (at ambient pressure)
outlet on pressure side: 0.5 to 2°C above bath temperature
Operating pressure:
coolant bath: ambient pressure
medium: 2 to 25 bar(g)
optional:

elevated bath / outlet temperature by means of pressurised coolant bath via a pressure retaining valve at the gas outlet;
bath operating pressure 150 mbar(a) for cooling down to -208°C

Control:
ON-OFF level control via KRYTEM level sensor and solenoid inlet valve;
Low exhaust gas temperature trip
optional:

steady level control via capacitive level sensor and pneumatic steady control valve
outlet temperature control / monitoring by means of continuous level adjustment via an outlet temperature sensor / phase sensor
level control without auxiliary energy with float valve (e.g., for operation in explosive atmosphere)
integrated vacuum-insulated inlet valve (electric or electro-pneumatic)

Insulation:
vacuum max. 10-4 mbar at operating temperature
Current:
230 VAC / 24 VDC
Materials:
1.4541, 1.4571, copper, PTFE